Chicago Events in 2019
This year is going to be amazing in Chicago! Of course, every year is stellar here, and we always look forward to enjoying more of what Chicago's known for – great food, great beer, world-class attractions and museums, and friendly people. But here are some dates you're going to want to know, so you don't miss out on all the fun in 2019.
Year of Chicago Theatre, throughout 2019
The Chicago Department of Cultural Affairs and Special Events, along with the League of Chicago Theatres, have designated 2019 as the Year of Chicago Theatre. So, check for special events and theatrical performances for the public, located in neighborhoods around the city.
Chicago Restaurant Week, 1/25-2/7
Every year, some of the best restaurants in Chicago make it easy for you to go out and try new foods. Add a little excitement to these gloomy winter months by enjoying prix-fixe meal deals at one of the nearly 400 participating restaurants this year, including 100 new ones and 45 suburban ones. The First Bites Bash, an opening kickoff party, takes place on 1/24 at the Field Museum.
21st Annual Chicago Kids and Kites Festival, 5/4
Every year, this spring tradition lets kids enjoy making and flying kites with free kite building kits. Professional kite flying demonstrations, balloon artists, face painting, and the Big Kite Candy Drop take place as well. Come to Cricket Hill in Lincoln Park to join in the fun!
Chicago Memorial Day Parade and Wreath Laying Ceremony, 5/25
The city's annual Memorial Day Parade honors those who have made the ultimate sacrifice in defense of the U.S. The wreath-laying ceremony takes place before the parade at Daley Plaza.
4th Annual Chicago House Music Festival, Memorial Day Weekend
Chicago is the birthplace of house music, so it's only fitting we have a festival to celebrate! Enjoy DJs and live performances all weekend at Millennium Park.
Chicago Riverwalk Summer Programming, late May-October
The 1.25-mile walk along the Chicago River will include programming all summer long, from fishing to evening fireworks. You must come and enjoy watching the boats, checking out vendors, and eating along this picturesque path.
34th Chicago Gospel Music Festival, 5/31-6/1
The gospel music scene has strong roots in Chicago, and this traditional free festival celebrates local and national artists who perform both traditional and contemporary gospel styles at Millennium Park.
36th Annual Chicago Blues Festival, 6/7-6/9
The past, present, and future of the blues is tied in with Chicago style, and this free festival is one of the summer's most popular events. Expect more than 100 international and local artists to spotlight the genre's contribution to culture.
Millennium Park Summer Music & Film Series, June-August
Enjoy free movies and concerts on the lawn at the Jay Pritzker Pavilion in Millennium Park. Bring a picnic with you, or buy from some of the area eateries. This is always a fun way to spend a summer night in Chicago! Schedule of events comes out later this year.
23rd Annual Chicago SummerDance, Wednesdays-Sundays from 6/27-8/24
This unique annual festival lets you take part in free, one-hour dance lessons with professionals, then join in on live music and dancing in Grant Parkimmediately after. Don't miss out! The all0day 4th annual SummerDance celebration takes place on 8/24.
39th Annual Taste of Chicago, 7/10-7/14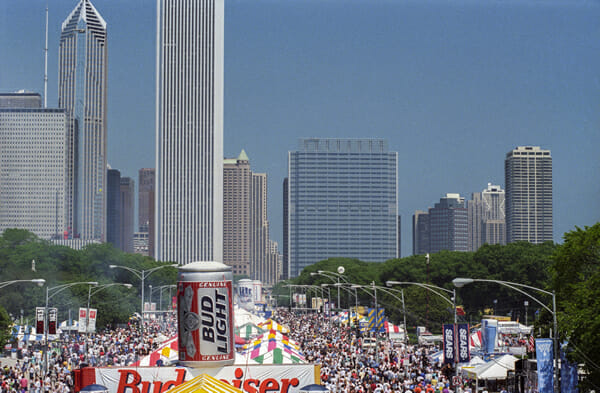 The free outdoor food festival is back to showcase Chicago's diverse and awesome dining scene. There's no cost to get in, but once here you'll want to buy tickets that'll net you both sample sizes and full-size meals. Cooking demos, free concerts, performances, arts, and activities are part of the excitement.
61st Annual Chicago Air & Water Show, 8/17-8/18
You'll want to come to North Avenue Beach for this annual spectacle, bringing millions of viewers to the waterfront for flight aerobatics, water rescues, parachute teams, and historic aircraft.
41st Annual Chicago Jazz Festival, 8/23-9/1
The greatest jazz artists from Chicago and around the world come to perform at the free music festival, which this year features extended dates for more musical magic. Check the schedule later in the year to see who's coming!
21st Annual World Music Festival Chicago, 10/13-10/29
The annual festival, which takes place in venues all around the city, features 50 artists that represent 20 countries and regions from around the world. Don't miss out, if global grooves are your jam.
106th Annual Christmas Tree and Holiday Celebrations, November-December
Although the city hasn't yet released a specific date for its annual tree lighting, you can expect tons of holiday excitement that includes caroling at Cloud Gate each Friday, the opening of the McCormick Tribune Ice Rink, and skating at the Maggie Daley Park Skating Ribbon.
Looking for local residential movers to get you in to or out of Chicago?
Call Elite Moving & Storage. We're highly rated, safe movers that offer full service moving services year round. We know the city, and we know moving in Chicago. If you want the best moving company in Chicagoland, you want us! Call for a free estimate.