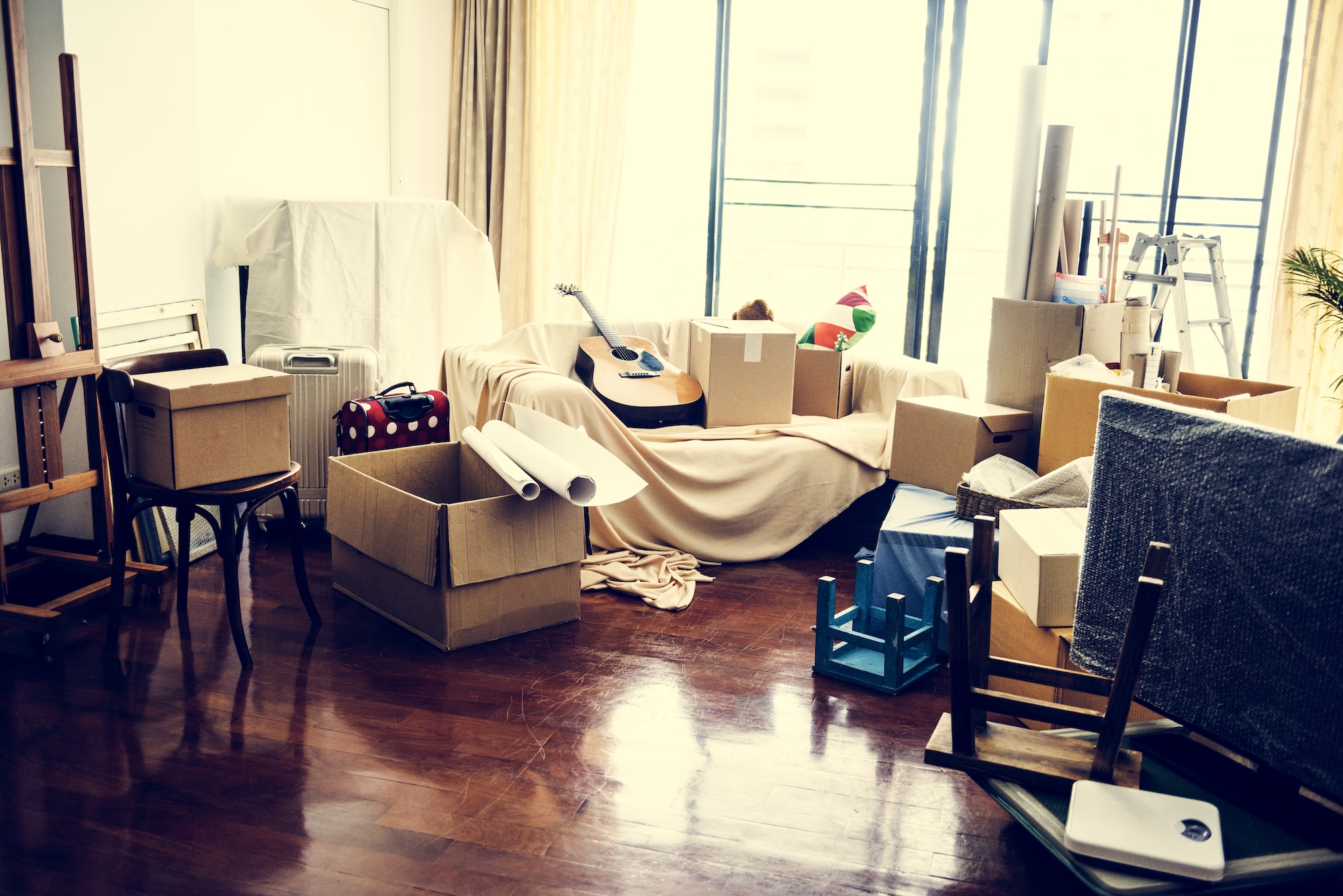 Cut the Clutter: 5 Tips to Minimize Before you Move
One of the best ways to lighten the load of a high-stress move—both literally and figuratively—is to minimize the amount of stuff you have to transfer from place to place. The more you can declutter, the easier it will be to pack, transport, and settle once you're moved into your new home. But especially if you've been in the same place for a long time, it can be difficult to know where to start or exactly how to choose what to keep and what to trash. Here are a few ways you can make it all more manageable.
1. Set goals
The worst feeling is looking at the mountains of stuff you have to do—or in this case, to pack—and running in blind. You're bound to drown in old clothes and chachkis if you do it that way. Instead, set goals for yourself: small, concrete, attainable goals that you can go through bit by bit. Perhaps start with a specific space like the living room, or storage closet, or a specific item category. Here are some categories you can think about when determining what you have and what you need to go through:
Furniture
Clothing
Papers
Books
Toys
Kitchen items
Décor
Holiday decorations
Outdoor gear
Gadgets
Breaking the process down like this will make the task not only feel more manageable, but will also help ensure you don't forget a room or category in all the chaos.
2. Think Beyond the Trash
Of course the first step is deciding whether you are going to keep each item or not, but once you decide to get rid of something, remember there are more options available to you than just throwing things away. Here are some options:
Sell
If you have more expensive items like technology, nice jewelry, or even furniture that you don't want to take with you, selling it is a good option. Online sellers like Ebay or Craig's List make it easy to do: just a few photos and an online post, and you can get some good money for items you no longer need. Plus, many buyers will come pick it up themselves, so if it's a heavy object like furniture, it can give you one less thing to worry about. And the extra money you get from the sale can help ease a little bit of the financial strain of moving. Or you can put it away for nice bottle of wine—a little housewarming gift to yourself once the whole moving process has come to fruition.
Recycle
To ensure you're doing the most for the environment, separate the stuff you are just planning to throw away into two categories: trash and recycling. Recyclables can include magazines, newspapers, tupperware and other clear containers, clear glass bowls, wire hangers, old birthday cards/postcards/holiday cards and more. If you're unsure about something, give it a quick Google search; more stuff can go in those blue bins than you think!
Donate
If you have clothes that don't fit, toys your kids have outgrown, or any other items that could be of use to others, donating is a great way to declutter while also giving back to your community. Many nonprofits like Goodwill or Salvation Army will pick up your items right from your house, so you don't even need to make an extra trip, and you can get a little tax write off out of it too. Think of it as a final goodbye gift to your old neighborhood.
3. Label
As you start going through your things, organizing them, and compiling, make sure you label everything. Post-It Notes, masking tape, or other cheap labeling materials can be a life saver, allowing you to keep everything in order without breaking the bank. Keeping track of what's in each box and where those boxes will go may seem like a lot of work at first, but it will make unpacking and settling into your new home so much easier.
4. Go Digital
Photographs and documents are some of the most difficult things to sort and transport, but hold some of our most treasured memories and important information. That's why uploading your photos and important documents to a hard drive or the Cloud can be such a lifesaver. Online, it's much easier to organize that information into albums, and you don't have to worry about precious memories or documents being ripped, lost, or bent out of shape during your move.
5. Consider temporary storage
You know you don't need your childhood Barbie Dream House or your great, great grandmother's antique floral-print luncheon plates, but there are some things, no matter how unnecessary, that you just can't bear to part with. A storage locker or facility is a great place to store these things, keeping your sentimental items or childhood possessions secure, but still out of your way during the moving process. It's the best of both worlds: keeping the packing to a minimum without losing any of the stuff for good.
Of course, you have to pay for a storage facility, and if you are moving a long distance, transporting your things to said facility can be just as much work as packing, so we recommend trying to declutter as much as possible, even if it's difficult.
Some additional tips and tricks
Even with a plan, it can be hard to decide which items are worth your time. Here are some ways to help figure out what should stay and what should go.
– Follow the one year rule. If you haven't used it in a year, and you don't have a concrete plan to use it in the next year, get rid of it. We often get emotional about possessions, but applying this concrete formula makes it a little easier to look at your things objectively and make logical decisions on what you really need.
– Don't keep an item you wouldn't buy again. If there's an item you wouldn't go out and buy now if you didn't already own it, is it really serving a useful purpose in your life? Sometimes we just get used to the stuff around us without really thinking about why we have it. So think about it, and if you can't imagine yourself going out to buy an item then you can probably safely assume it's because you don't need it.
– Don't keep an item just because you think you should. Guilt has no place in the moving process. If you're holding on to a pair of hideous earrings your aunt gave you for your birthday a few years ago just because you don't want to risk hurting her feelings, let it go. Trust us, she'll never know.
– Don't keep an item that causes you misery. Don't waste valuable packing time, box space, and moving effort on things that just bring you down. The things you take with you to your new home should bring you joy; they should be good omens that inspire you to start anew in a fresh place. Mementos of failed friendships or relationships or clothes that no longer fit do not fall into that category. Leave those toxic memories behind.
Get Elite For All the Stuff That Made the Cut
And after all that work, you're going to want to take special care with the stuff you do choose to keep. Elite Movers and Storage has nearly two decades of experience, 3,000 new and repeat customers per year, and an A-rating from the Better Business Bureau for the past 10 years, so we know how to make sure the important stuff gets from point A to point B with no complications.
Visit our website today to get a free virtual quote on your move, or to learn more about how Elite Movers can be there for you.