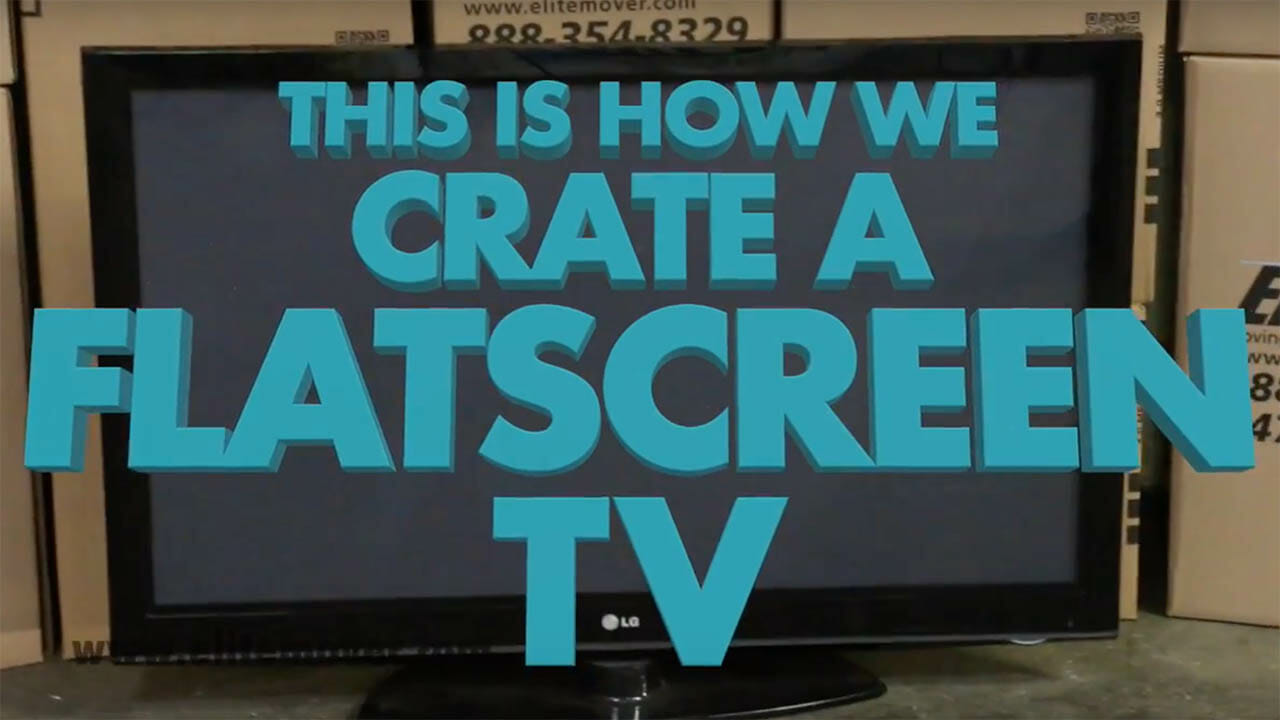 How To Pack A Flat Screen TV
TVs are one of the most challenging items to pack. They're bulky, fragile, heavy, and can be expensive to replace. So how do you go about packing a TV? What kind of box should you use? What else should you know to safely transport your TV? Well, we have moved thousands of TVs, so whether you're moving yourself or hiring a professional, here are some of our pointers for moving a flat screen television.
What Kind of Box Should I Use to Move a TV?
The box you use to pack your TV in for a move is important. If you happen to still have the original box that the TV was purchased in, you can use that box with additional reinforcement. We suggest using boxes made especially for moving a television, as they are much thicker than normal boxes found at big box retailers and provide more protection. You can purchase the TV box from us, or have us crate it for you like in this video. We suggest using moving blankets to provide the cushion and the protections for the TV within the box – watch the video to see how our professional movers accomplish this.
How to wrap a TV for moving?
The process to wrap a TV depends on the materials available to you. Regardless, it is important to tightly wrap the screen with a blanket or bubble wrap, bound with packing tape – our video gives a good idea on how to accomplish this. Depending on the box you have, you might have to remove the base of the television set to fit it in the box. Make sure you don't lose the base – you can tape it to the outside of the box to make sure you don't lose it.
Should I move my TV vertically or on its side?
TVs are built to be shipped and used vertically, and that's best practice for moving a TV as far as we're concerned. Whenever possible, we strongly suggest moving a TV upright. If something necessitates the TV being moved horizontally, make sure nothing can fall on the screen, and ensure a smooth ride as excessive bumps and jolts to a TV on its side can cause damage.
That Should Do It!
At last you've got your box, wrapped it properly, marked it as "FRAGILE", and found a secure place on the truck where the TV will remain vertical for the ride. Have a partner help you carry your TV to and from the moving truck if you are moving yourself. As always, if you need help moving anywhere in the USA, call your friends at Elite Moving and Storage.
Coming Soon in This Series: How to Pack a Piano, How to Wrap a Couch, How to Wrap a Dresser, How to Pack Dishes, and How to Crate a Glass Tabletop
Have an old, large TV? Consider recycling your large television before you move. For donation in North Suburban Chicago Click Here.