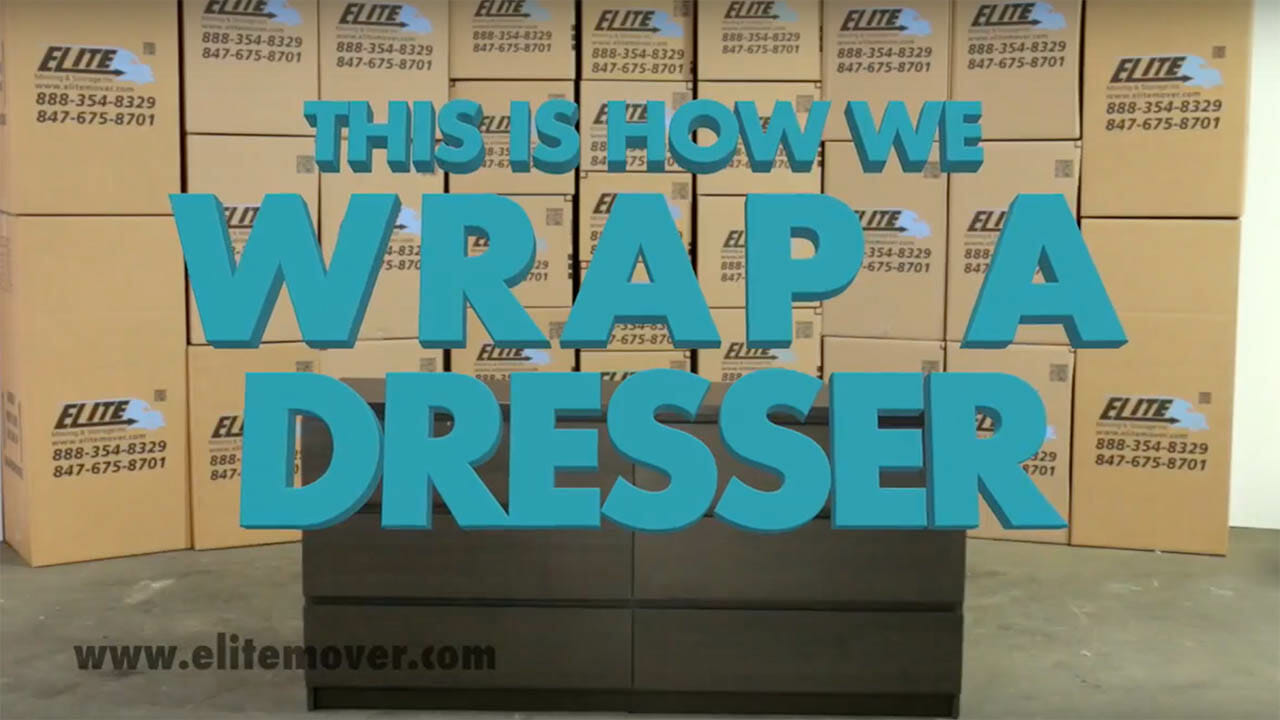 How to Wrap a Dresser for Moving
At Elite Moving & Storage, we take pride in how we pack and move your belongings from your old home to your new home. Dressers and other heavy furniture require protective wrapping to cover and protect them from accidents while moving. In our video, we will show you our tips from years of experience moving heavy furniture.

Protective Blankets Keep Your Dresser Safe
Our experienced packers use thick, protective moving blankets that provide extra cushioning and padding for your dresser. Dressers should be emptied before they are transported. We drape and wrap the blankets over and around the empty dresser, leaving no surface area exposed. This helps protect from scuffs, scratches and dings. To get an idea how it's all done, watch our quick video.
Apply Packing Tape and Shrink Wrap
Next, packing tape is wound around the dresser to bind the blankets in place. Tilt the dresser on its side so that you can wrap tape around the sides of the dresser as well. Make sure to use plenty of tape – our moving pros use enough that we can lift the dresser by gripping the tape as you can see in the video.
Shrink wrap can then be wound around the dresser to keep the blankets in place and create a well-padded and easy-to-transport item that's protected from any bumps, bruises, or bounces while in transit. It also provides a barrier to keep moisture and dirt off of your valuable furniture.
You're All Set to Move!
Tightly wrapped and secured, your dresser is now ready to make its move to your new home. Heavy furniture can be hazardous to move; make sure you have a partner to help lift when moving your dresser, or have the pros at Elite take care of the move for you. Request a free quote for your move today!
Others in This Series: How to Pack a Piano, How to Pack a Flat Screen TV, How to Crate a Glass Tabletop , How to Pack a Couch, and How to Pack Your DishPack