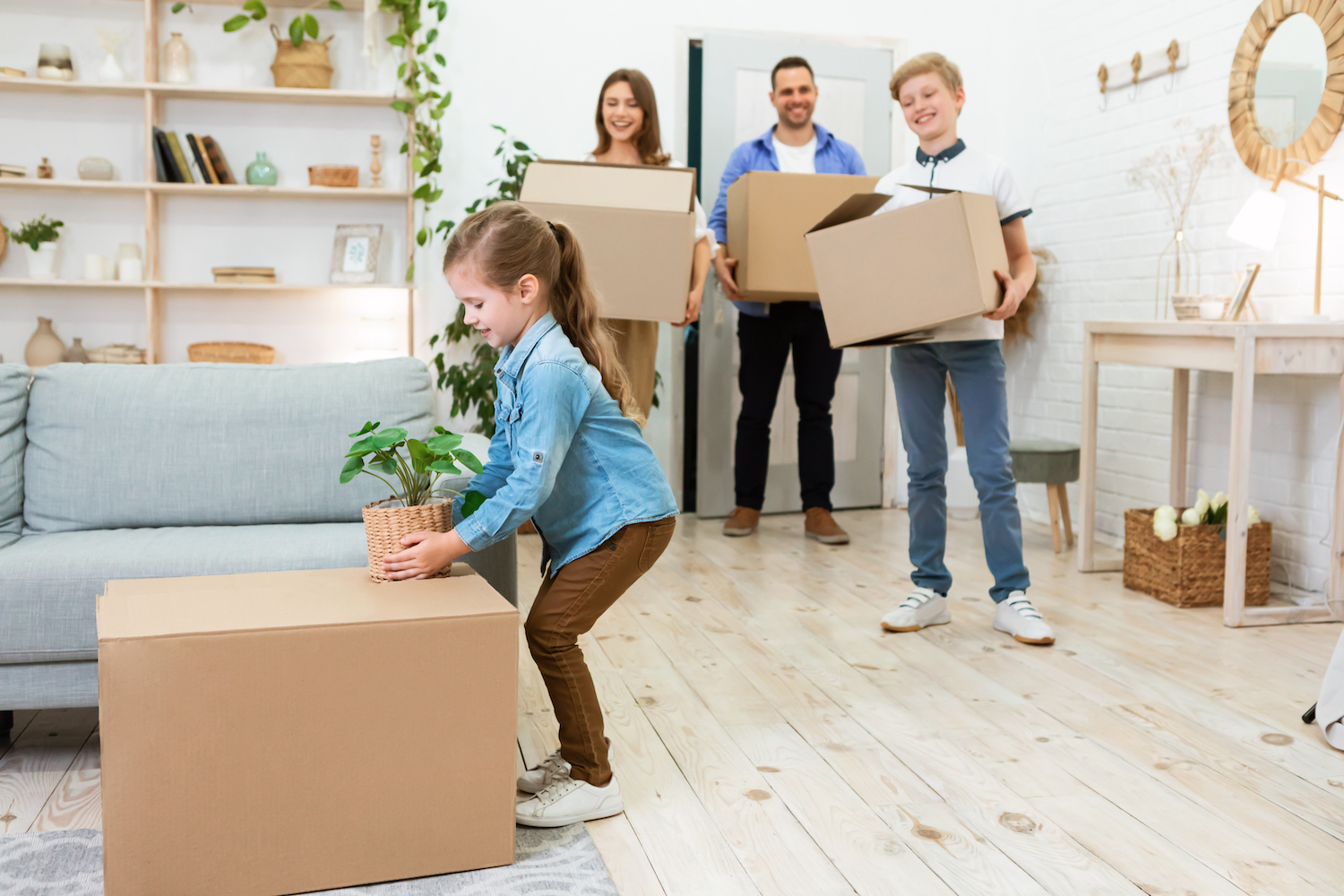 Moving? Tips to Help your child adjust
Whether you're relocating across the country or across the city, moving can be an especially stressful experience when kids are involved. Aside from the packing, unpacking, and physical labor aspect of it, there's also a lot of emotion involved. Moving to a new home requires extra amounts of flexibility and fortitude — from the entire family! And sometimes helping the littlest members of the household adjust to a new home is not as simple as filling out a change-of-address form. Fortunately, there are a number of things you can do – both before the move and after – to lessen their anxieties and alleviate their fears. Kids are resilient and while most adjust quickly to new changes, as a parent, there are a few things you can do to help ease the transition and make things less stressful for your children.
Acknowledge their emotions – Moving to a new home is an emotional time for everyone involved. In fact, psychologists say that moving is one of the top five most emotionally stressful situations that one might experience during their lifetime. Allow kids the freedom and space to feel a variety of emotions. Instead of a continual pep talk, invite kids to express their feelings and examine the root of those feelings. Kids are resilient, more so than grown ups. Don't hide the idea of moving. Bring them into the conversation and allow them to be a part of it. Talk to your kids to help them understand it's safe to process emotions rather than bury them.
Help your child know what to expect – Visit your new place, if possible. Don't just go to the house. Take your kids to the playground, to see their new school and to the local library. Find the best pizza and bakery. Learn about the new neighborhood with your kids. Encourage your children to research the area you're moving to, so that it'll be more familiar to them once they move. Research sports teams, clubs, and other local groups to find out the best ways to immerse your family in the new town.
Read books – One of the best ways to help a young child with their anxiety and sadness is by reading positive books about the moving process. Hearing stories of other kids going through similar situations can help normalize emotions and ease any fears. Here are a few recommended books about moving.
Work while they sleep – Seeing their things get sorted and packed up might be stressful for some kids, while other kids might find a sense of purpose in contributing to the work of moving. Be aware of how the decluttering and packing process is affecting your child. If they seem rattled or anxious, you may want to consider packing while they are asleep. Also, you may want to dispose of items that cannot move with you — like that broken toy or the cracked sandbox in the backyard — while they're sleeping to minimize their stress. If they are helping you pack, make it fun. If you have small children, we recommend getting them boxes to play with while packing up their rooms. Teach them how to pack correctly and let them be a part of the process, overall.
Pack a 'favorites' bag or box – When the time comes to pack up the final necessities, make sure all your child's favorite items are consolidated into one special bag or box. Favorite toys, stuffed animals, blankets, books, clothes, or pajamas can all be packed together for safekeeping. In order to keep those items close, your child may want to hold onto that bag in the car rather than putting it in the moving truck.
Set up the kids' rooms first – With the exception of setting up kitchen and bathroom basics, make kids' rooms a top priority when unpacking in your new home. Everything for the kids' rooms should be properly marked. These boxes should go into the moving truck last and come off first so you can start unpacking their room first. Getting things settled in their new space will help kids feel more comfortable and stable. Also, let them help with the unpacking process so that they know where everything is located in their room.
Get back into your routine – After you move, make every effort to get back on a normal schedule. Most people like routine, especially children and teens. For the first night, you may let the younger members of your family stay up a little longer just to make the night special, but after that, it's important to establish a daily routine.  If you have a baby or a young child, it's especially important to keep their daily routine (i.e. meals, play times, nap times, activities, etc.) as consistent and normal as possible. This will help keep your kids feeling secure and you feeling sane.
From the initial home search to the big moving day, do your best to make the process fun for your child. Elite Moving & Storage is in business since 2006, helping over 2,500 families each year with their moving needs. From full-service moving capabilities to storage options, Elite Moving & Storage can assist you with every aspect of your move. For more information on how we can assist you, contact us today!