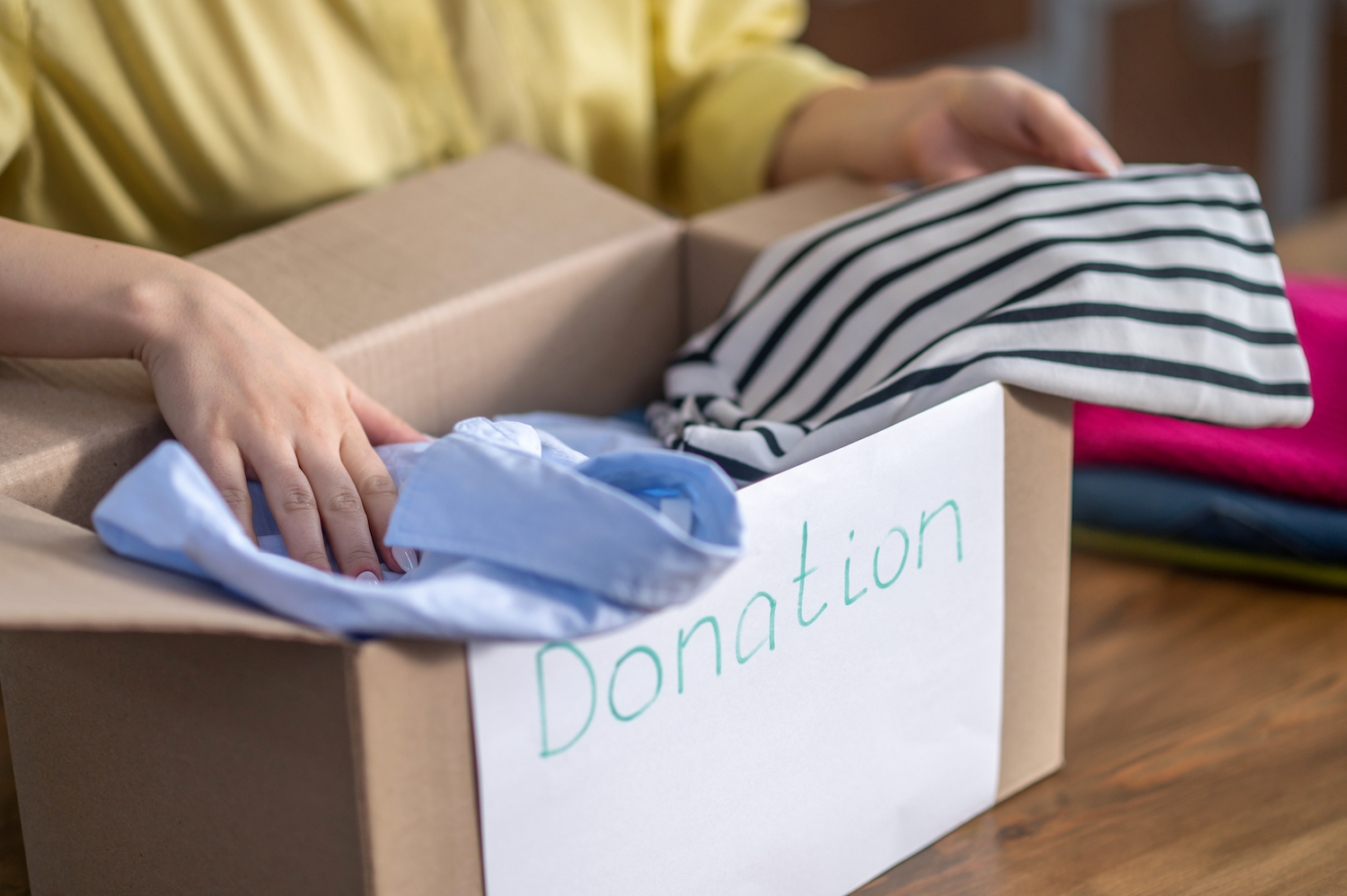 Nothing makes clutter clearing easier than knowing your household items, clothes, and shoes are going to a worthy cause. Of course, selling your items is also an option for many items in good condition, but it can be a hassle to bargain and coordinate with others on sites like Craigslist and eBay, and if you're in a rush, it may just not be worth it.
By donating, you can feel good about helping others, all while quickly and easily getting rid of unwanted belongings, and providing yourself with a little good karma for your upcoming move.
1.   Books
A little light reading can get pretty heavy when you have to move it all at once. Of course, it's hard to give away a beloved book, but we're all guilty of having one or two titles that we "swore we'd read" five years ago. When you move, you only want to take the things that are really meaningful or truly useful, and sometimes that 500 page vegan, gluten-free, better-for-you cookbook just doesn't make the cut. But that doesn't mean that book won't mean the world to someone else.
When it comes to donating books, though, make sure the book is in good condition. A crinkled spine or a few folded edges won't ruin it, but if it's falling apart, stained beyond recognition, or missing significant chunks, it may be time to retire the book completely. Writing in your books may be acceptable (it worked out for Harry in The Half Blood Prince) for some donation locations, but check carefully with the rules before making your choice of where to donate.
Places to Donate Books:
Operation Paperback — A national non-profit that collects gently-used books to send to overseas troops as well as veterans and military families across America.
Access Books — A California-based non-profit that sends books to public schools and libraries where the majority of students live at or below the poverty line.
Books Through Bars — An organization that sends free books to incarcerated people in six mid-Atlantic states (Pennsylvania, New York, New Jersey, Delaware, Maryland, and Virginia).
Your local library— Your local library will be glad to take your books.
A local Little Free Library— Little Free Library is a network of small drop boxes erected by regular people across the country where others are free to grab or donate their old books.
2.   Clothes
Clothing, especially fragile items in need of special care or wardrobe boxes, can be a hassle to move. It's also one of those things that can easily pile up—an abundance of free t-shirts or pieces from years ago gathering dust in the back of your closet. This makes clothing donation one of the easiest pieces of your pre-move purge. There are copious locations to donate most clothes from online boutiques to large stores like Goodwill to the numerous local used clothing shops you could likely find with a simple Google search. But here are some locations you can use to get rid of unwanted clothes—both the basics, and slightly more niche items.
Places to Donate Clothes
GreenDrop— An organization that specializes in the sale of donated clothing and donates the funds back to the American Red Cross.
One Warm Coat— For coats specifically, this organization provides free coats to children and adults in need.
Dress for Success— This non-profit provides business/work-appropriate clothes to women who need business or career clothes for interviews and jobs.
Soles4Souls— A regional nonprofit that takes gently used shoes and gives them to people in need across the U.S. and around the world.
United Way— A worldwide organization that allows people to purchase clothes at a low price. They take any type of clothing, including swimsuits, snow boots, winter coats, and prom dresses.
3.   Cell Phones
True, you may not be able to get much for your Nokia 3310, but if you have a pile of 5 to 10 year-old smartphones gathering dust in a closet somewhere, they may be able to serve a purpose elsewhere. There are many places that will take old cell phones, and even help recycle your phone if it can't be taken and used.
Just remember to wipe all of your personal data first unless you wish to donate your identity as well as your phone. And ensure, if you're donating somewhere that will be using it, that it is in working order before you drop it off.
Places to Donate Cell Phones
Call2Recycle— This organization collects cell phones with or without the batteries. If it can no longer be used, they help recycle your phone. The proceeds support a public education and phone collection program.
Cell Phones for Soldiers— An organization that collects used cell phones and accessories to sell and recycle. They donate the money to purchase calling cards for deployed military troops and their families.
Secure the Call— An organization that seeks to help two problems: 1. electronic waste. 2. lack of electronic access to emergency services by vulnerable communities.
4.   Computers
Much like phones, with rapidly updating technology some people go through computers relatively quickly. If you're an "early adopter" and have a pile of slightly aged but certainly still usable computers, you can do a lot of good by giving them to people in need. Technology is an integral part of society, and giving a new, working computer to organizations or individuals who don't currently have access can fundamentally change a life.
Also just like phones, make sure you wipe the hard drive and get rid of any personal information you may have stored on your old computer, and before that, make sure you've saved any files you don't wish to lose in the erasure.
Places to Donate Computers
InterConnection— This non-profit organization is a certified Microsoft Refurbisher. They refurbish the equipment, if possible, and provide them to under-served communities internationally.
National Cristina Foundation— Pioneers of tech recycling, this organization finds local charities that need your technology donations.
The World Computer Exchange— They take donated computers to refurbish and use in their Inspire Girls and School Refurbishing Clubs projects to provide education to children in 79 developing countries.
Your local library— Before you donate elsewhere, check your local library to see if you can help a community close to home. It's a great farewell to your neighborhood before you move away.
5.   Cars
Whether it's because you no longer need a car where you're moving, or whether it's because you're planning on augmenting a new home with a shiny new vehicle, donating your car before you move shouldn't have to be a hassle. Plus, when you donate, you get the added bonus of a tax write off! Before you donate: Make sure to search every inch of the car for receipts or papers marked with any identifying information. Give your car a good cleaning, either by hand or via a car wash.
Places to Donate Cars
Donate A Car— This isn't a charity in itself. It's a vehicle donation service offered by the Insurance Auto Auctions Donation Division that benefits:
Animal charities
Charities that focus on curing or supporting individuals with specific diseases, such as lupus, diabetes, and cancer
General humanitarian charities, such as the Red Cross
The Car Talk Vehicle Donation Program — This program uses the proceeds from the sale or recycling of your vehicle to support your local NPR station.
Wheels For Wishes— This program benefits the Make-A-Wish Foundation, which works to grant the wishes of children diagnosed with critical illnesses.
6.   Furniture
Lugging unnecessary furniture from your old home to your new one is a strain no one (and no one's back) should have to bear. If you're downsizing, or if you're just planning to decorate your new home with a new style, donating furniture can be a great way to do some good. The trouble comes in finding the right organization to handle it, ensure it's care, and—most importantly—carry it away for you.
Once you find that perfect match, make sure you're living up to their standards as well. Ensure your furniture is as clean as can be (when was the last time you thoroughly dusted that couch? Be honest) and that there are no dangerous edges or sharp pieces protruding from the surface.
Places to Donate Furniture
The Furniture Bank— This organization helps battered women and children, immigrants, the unemployed, the working poor, and the previously homeless set up their home.
Habitat for Humanity— A nonprofit organization that helps build safe and affordable homes for families who need them. In addition, they also act as a furniture pickup and donation center.
Pick Up Please— A program of the Vietnam Veterans of America (VVA) that can often pick up your furniture within 24 hours.
7.   Glasses and Eyewear
Eyewear is rarely something that will really change or weigh down your moving load, but if you have extra pairs of glasses, it may be a good idea to say goodbye to them, especially if your prescription has changed. Plus, there will be no need to worry about extraneous lenses breaking in transit.
Places to Donate Glasses and Eyewear
Lions Clubs International— A network of collection boxes and recycling centers where volunteers process donated glasses for distribution through medical missions around the world.
OneSight— An independent nonprofit that has helped more than nine million people in 46 countries. They set up permanent vision centers and hold charitable clinics around the world.
Eyes of Hope— An organization that provides free access to eye care and eyewear for more than 2 million people around the world.
8.   Kitchen Appliances
Kitchen appliances can be bulky and difficult to pack for a move, so if you're not putting that air fryer to good use, it may be best to just let it go. Especially if you're moving to a smaller kitchen, being intentional with what you bring and cutting down clutter can make a home feel calmer and more inviting. It also leaves room for the appliances you do use, and counter space to prep, cook, serve, and display any delicious dishes you make. But your old kitchen appliances—after they've been cleaned and gathered with all their attachments, cords, and other add-ons—can find a new, loving home at any of these places.
Places to Donate Kitchen Appliances
Habitat ReStore— An organization that offers free pickup for large items and accepts both new and gently used appliances to help fund the construction of homes for families in need internationally.
Responsible Appliance Disposal program— A part of the Environmental Protection Agency that will help dispose of your old appliances and may even offer a financial incentive to do so.
Goodwill— While Goodwill does not currently accept large household appliances they will happily take any gently used small appliances.
9.   Tools
Tools can come in handy if your new place is a bit of a fixer-upper, but if you're losing storage or garage space, there are certainly places you can donate unnecessary tools. Especially if you're a bit of a DIY fanatic and have tools you bought for a specific project that are no longer proving useful, it may be worth a try to pick out some things to let go before you move. Just make sure you have all your tools and any corresponding parts properly packaged and safely secured before donating.
Places to Donate Tools
Habitat for Humanity— Habitat collects tools, building materials, appliances, furniture and housewares, using them to carry out and fund their work.
Earth 911— A recycling center search page that provides a list of smaller, community-based options for donation or recycling.
And for the rest
But you can't give it all away. No matter how charitable you are, no matter how fiercely you embrace Marie Kondo minimalism, you'll likely still have quite a lot to deal with when it comes time to pack and move. And that's why having expert movers is so important. Especially because what you have left after your pre-move purge are the things that really matter to you, and it's of vital importance that those items get delivered to your new home quickly and safely.
Elite Moving & Storage is a Chicagoland and long-distance moving company, in business for nearly two decades. Throughout the years, we have helped thousands of families and businesses with their relocation needs with competitive rates and impeccable quality. We tailor our strategies to find the best moving packages to suit your needs and budget. Visit elitemover.com to learn more about everything from packing, to door-to-door relocation, to storing services.